Mending Tears and Infilling Loses
Traditional mending of tears in paper are standard practice in paper conservation, and should be done with the correct weight and tone of Oriental paper (Japanese paper called Washi, or Korean paper called Hanji)  these pieces of paper used to bridge tears should be torn to feather the transitional edges.  It should be adhered with archival starch paste, zin shofu a gluten free wheat starch paste is considered the best and is the only adhesive I use for these repairs.

Before treatment of a tear and break on a letter written and signed by George Washington, 1796, and after mending with Japanese paper.
Leafcasting, infilling losses with paper pulp on a small papermaking machine, is a process that I have been recognized as one of the world's leading experts. In 1984,  I helped develop the first computer/digital method for calculating the area of loss in an item which greatly enhanced the exactitude and accuracy of the paper pulp infill.  I have taught this process and the use of the leafcasting machine in Korea, China, Vietnam, Ukraine, Switzerland, and Austria, and to scores of American conservators, including those at the Library of Congress.  It is one of my specialties.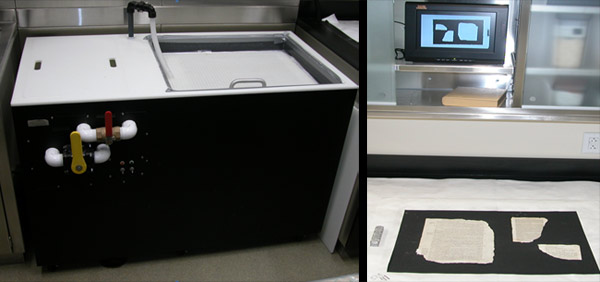 The Leafcaster and the digital process developed to calculate the exact area of loss.
The manuscript document pictured below was written with iron gall ink and arrived in tatters.  It was torn at the folds with large areas of loss caused by insects/rodents.
The conservation treatment involved careful dry-cleaning to remove surface dirt. The document was then washed in ethanol and deionized/recalcified water which removed soluble acids found in the paper and inks.   The losses and tears were mended and filled with toned paper pulp using a small papermaking machine called a Leafcaster.  Upon the request of the client and with a transcription of the missing text, some of the newly leafcast losses were infilled with matching ink, thus completing the document to as close to its original condition as possible.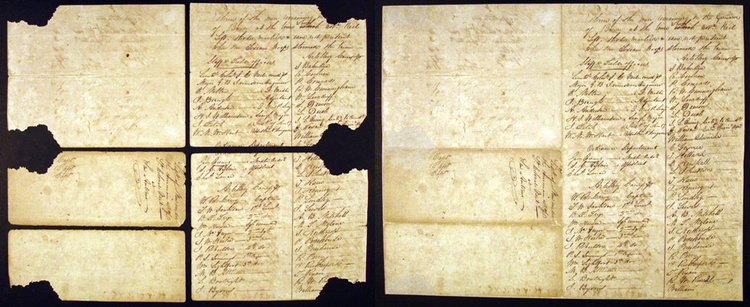 Before treatment of the Roster from the Alamo damaged by insects or rodents with all the folds split and torn, and after leafcasting treatment.

Before and after detail with leafcast mended corner and infilled text.